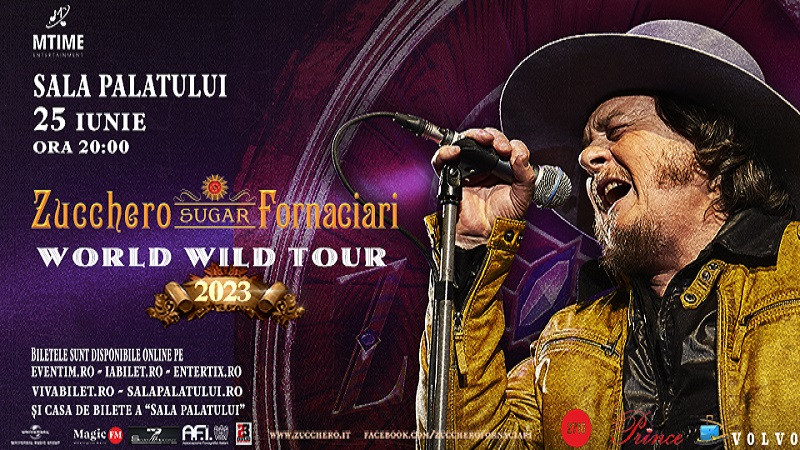 CUMPĂRĂ BILETE
Comunicat De Presa
ZUCCHERO "WORL WILD TOUR 2023"
BUCURESTI  – ROMANIA!
Datorita pandemiei acest tur a fost amanat de mai multe ori, producand neplaceri productiei, organizatorilor dar si fanilor nerabdatori sa se intalneasca cu artistul lor preferat – Zucchero – maestru al muzicii rock in toata lumea cu peste 60 milioane de discuri vandute.
De aceasta data la iniziativa speciala a artistului, nerabdator sa se intalneasca cu fanii din Romania a hotarat sa ne surprinda ANTICIPAND concertele din tur 2023:
Bucuresti:
25 Iunie 2023 Sala Palatului in locul datei de 05 Iulie 2022 Sala Palatului
In speranta ca de aceasta data va dam o veste buna, speram sa ne intalnim cu  totii la aceste spectacole.
In caz ca modificarea datei va creeaza dificultati in a participa la unul din aceste spectacole aveti posibilitatea pana in data de 31 decembrie 2022 sa cereti returnarea biletelor sau voucher pentru unul din spectacolele organizatorilor.
Organizatori:
MTimentertainment
ZUCCHERO "SUGAR" FORNACIARI
biography
One of the finest exponents of rock blues in Italy, Zucchero (real name Adelmo Fornaciari) has sold more than 60 million records in his career, including 8 million copies of the album"Oro, incenso & birra" alone. As well as being the first western artist to perform at the Kremlin after the fall of the Berlin Wall, Zucchero was the only Italian artist to take part in the Woodstock Festival in 1994, as well as all the 46664 events for Nelson Mandela, of which he is an Ambassador, and the Freddie Mercury Tribute in 1992. Also in 1992, Zucchero, together with Luciano Pavarotti, came up with the idea of the charity gala "Pavarotti & Friends". The first edition, broadcast live worldwide, paved the way for a series of annual charity concerts which continued up to 2003. In 1999 he participated in the IMST Festival in Austria, performing in front of 200,000 as he went on after Bryan Adams and before the Rolling Stones. In the same year he was invited by Bono of U2 to play at the Net Aid charity concert in New York, an event which was broadcast throughout the world. Zucchero also took part in the two editions of the Rainforest Fund (1997 and 2019), a fund raising event organised by Sting and his wife Trudie Styler to protect the world's rainforests and defend the human rights of the indigenous peoples who inhabit them.
In course of his career he has played in 5 continents, 69 states and 650 cities, including such unique destinations as Oman, Mauritius, Thaiti, New Caledonia, Armenia and New Zealand to name but a few. In 2004 he performed at the Royal Albert Hall in a memorable event in which he shared the stage with special guests of world renown such as Luciano Pavarotti, Eric Clapton, Brian May, Solomon Burke and Dolores O'Riordan. The concert was subsequently released on a DVD entitled "Live At The Royal Albert Hall". In 2007 he was nominated for a Grammy Award, together with Billy Preston and Eric Clapton, for best "R&B Traditional Vocal Collaboration". His show in December 2012 at the Superior Institute of Art in Havana in front of more than 80,000 people has been hailed as the biggest live event held by a foreign singer in Cuba while under embargo. In July 2018, he played in front of more than 65,000 people in London's Hyde Park at the British Summer Time festival alongside international artists of the calibre of Eric Clapton, Santana and Steve Winwood. In 2020, together with some of the world's biggest stars, Zucchero took part in the worldwide live stream entitled "One world: Together at Home" (to support the World Health Organisation in the fight against Covid-19), and became a spokesman for a universal message on the 50th anniversary of World Earth Day, playing a brand new Italian version of Bono's "Let Your Love Be Known" in front of a deserted Colosseum. Zucchero wrote the lyrics for the Italian version, entitled "Canta la vita", while Bono featured on the recording. He then sent yet another message of hope around the world by performing a song called "Amore Adesso!" in a magically desolate St. Mark's Square in Venice. The song was an Italian adaptation of "No Time For Love Like Now" by Michael Stipe and Aaron Dessner, for which Zucchero again wrote the lyrics. Furthermore, an emotional duet with Sting entitled "September" was susequently released, taken from the album "Zucchero "D.O.C. Deluxe" (a double CD containing all the songs from "D.O.C" as well as 6 new tracks). The song was also on Sting's "Duets" album. In May 2021, "InacusticoD.O.C. & More" was released, the first entirely acoustic project of Zucchero's career, and during the summer of 2021 he performed a series of acoustic shows both in Italy and abroad despite limited capacity venues due to Covid-19. In November 2021 "Discover" came out, his first ever covers album which boasted collaborations with Bono, Elisa and Mahmood, as well as a virtual duet with Fabrizio De André. December saw the release of the film "SING 2", in which Zucchero provided the Italian voice of the character Clay Calloway. From April to October 2022, Zucchero returned to the live stage with 80 shows throughout the world for his "World Wild Tour", during which he played 14 nights at the Verona Arena. His music has reached far beyond Italian borders thanks in no small measure to collaborations with artists of the calibre of Bryan Adams, Al Green, The Blues Brothers, Solomon Burke, Dolores O'Riordan, Rufus Thomas, Johnny Hallyday, Tony Childs, Sheryl Crow, Tom Jones, Scorpions, Bono, Sting, Jeff Beck, Ray Charles, Billy Preston, Eric Clapton, Joe Cocker, Elvis Costello, Miles Davis, Peter Gabriel, Paul Young, John Lee Hooker, B.B. King, Mark Knopfler, Brian May, Luciano Pavarotti, Ennio Morricone, Andrea Bocelli, Iggy Pop, Queen, Manà, Alejandro Sanz and many more besides.